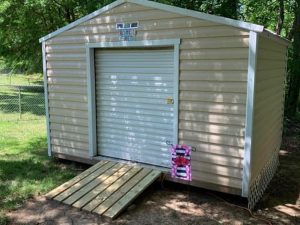 He said that he needed a place to do handyman projects and store his motorcyle. She said that she wanted a spot to organize all of her gardening tools. They both said that they wanted a special place for the grandchildren.
It all started with one storage building – just for storage. But it soon filled up, and then HE made a boys club in one corner. So SHE decided that she wanted a dedicated space for her gardening stuff, although she might have just wanted a separate girls club.
However it went down, HE ended up with a decidely masculine "Man Cave", complete with UNC paraphanalia, power tools, and some antlers. HER space has a very different feel (okay – it's neater) with rows of some serious gardening tools, a spot for tea parties, and even a rug on the floor.
Both of them had the luxury of choosing exactly what they wanted from all of of the options we offer.
You can also design the exactly the space you want. We offer lots of sizes, sidings, roofing options, and colors. Customize with electrical packages, windows, and lighting. Add functionality with shelving, pegboards, ramps, workbenches, and so very much more.
That's the beauty of a building from Hometown Sheds. No matter who says what, we can build it!