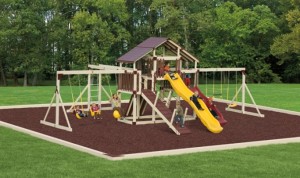 There's always that one backyard in the neighborhood where kids like to hang out and play. Chances are, it's because that's the house that has the best playset on the street. When you're looking for play equipment for your yard – or your school, church, or daycare – we've got what kids love – Adventure World playsets that will give your children years and years of play.
Built by the Best. The playsets at Hometown are Amish-made in Pennsylvania. Adventure World is an Amish owned company, and the Amish craftsmanship and experience is evident in every single feature. They've been creating adventures for kids for over 30 years, and we're proud to offer their product to you.
Safe at Home. Adventure World Playsets are serious about safety. Splinter free surfaces, rubber coated swing chaings, safety rails, ground anchors, and non-slip surfaces top the list of ways that your children are kept safe as they play. Rubber mulch is also available to add a safe surface for running and jumping – and falling, too.
Your Turn. We have ten different base designs for playsets, but the truth is, you can design your own. It starts with swings, towers, bridges, and slides. But you can also add sandboxes, picnic benches, or even seating for adults! Adventure World even has an online builder so you an build your own configuration.
You're the Spectator. If assembling things isn't your idea of play, this is the set for you. Our crews at Hometown will deliver, setup, and totally assemble your playset.
If you're in the market for a playset, don't play around. Contact Hometown Sheds and let us introduce you to the very best playset on the market. With Hometown and Adventure World, the name of the game is quality, safety, and most of all – fun!
Click and enter your zipcode for more information!